I promised to tell you a little more about our story, so here goes.
2011 B.C. (Before Cris)
I'll start this story by rewinding a few months–back to August of 2011.   I was 39, single (a bachelor), and determined not to give up on love (despite some serious disappointments over the previous 12 months).
I went out on a few friendly dates from August through September.  They were very positive experiences, but I really didn't have 100% peace about going to the next level (pursuing courtship) with any of these young women. It's kind of hard to explain, but something just didn't feel right about it. I kept praying and asking God to guide me—I didn't want another heartbreak (for me or for anyone else).
It wasn't long before I decided to move to Angeles City. The move consumed all my thoughts and energy (not to mention money) so I wasn't really focused on dating.
Thanks for the Add
I received an add request in Facebook around the time of the move (November 1st). I don't always accept requests from strangers, but I decided to make an exception when I saw the picture of a stunning morena beauty.
There were a few things going on "behind the scenes." Cris' friend and spiritual mentor is an avid reader of my blog. She was the one who suggested Cris reach out to me. Cris prayed and asked God to bless any future friendship/relationship we might have—all this before I had even responded to her in any way.
I thanked Cris for the add request. She replied and explained she used to live here in Angeles City before moving to Macau. I asked her to tell me more about herself.  Her response made my jaw drop: she had so many of the qualities I was looking for in a wife (and had never even had a boyfriend). Mare Cris just seemed too good to be true.
Love at First Skype?
We sent a few more messages back and forth through Facebook and arranged to chat on Skype. I sensed an immediate connection with her, and long video chats became a daily routine for us.
But I was still a little cautious before we met in person. Sometimes I even wondered if I was investing too much of myself in someone I'd never even seen face-to-face. Online chats are great, but there's only so much you can really know through online communication.
The Best 3 Days of 2011
The next logical step was a visit to Macau, so we made plans for me to be there December 7th-9th.   I was excited and a little apprehensive about this trip. I knew it would be either a blissful confirmation of things to come or the most awkward vacation of my life. Needless to say, it turned out to be the best three days of 2011. I asked her to be my girlfriend and she accepted on my last day in Macau (December 9th).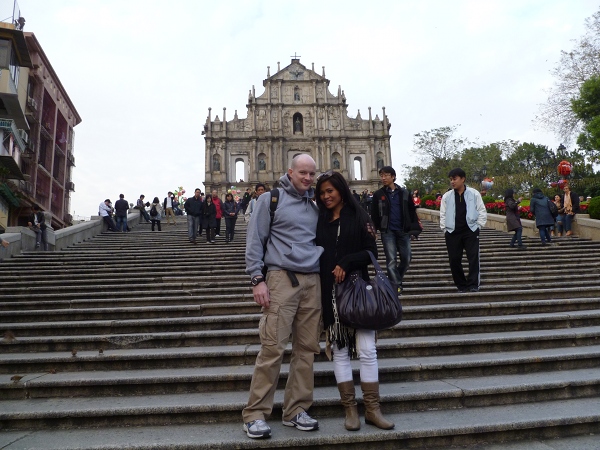 I decided I would propose marriage the next time I saw her.  I knew I had found something truly special in her.
I made a brief holiday visit to the States a few days after my trip to Macau. I introduced Cris to my parents (through video chat) and they were able to talk with her several times. We were starting to talk about marriage and I bought an engagement ring before returning to the Philippines.
Cris was planning to visit me here in the Philippines by late January. We were going to make a surprise visit to her family, and I was planning to propose marriage while she was here. The next step would be to finalize plans for her permanent return to the Philippines. But I also gave her this open invitation: "Just say the word if you change your mind and want to come back sooner."
Reunited
Cris called me on January 3rd and told me she had decided to come back early. I agreed to buy her a ticket for January 4th, her birthday. I couldn't wait to see her, hold her in my arms, and ask her to be my wife.
We picked Cris up at Clark Airport around 11:30 p.m. (my friends Erwin and Blessing were with me). We stopped by a coffee shop for a snack, and then Cris came to my place for birthday cake. I proposed to her early in the morning on January 5th and she said "yes."
That's the short version of how Mare Cris and I met.